How to Write an Internet Marketing Essay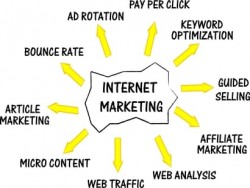 Internet Marketing Essay
Internet marketing (or e-marketing) is a blooming phenomenon nowadays; almost every business in the Western world has at least one means of advertising its products on the web (usually a homepage or Facebook profile). When studying how to write an Internet marketing essay, the student has to consider the broad scope of this subject: there are very many elements that have to be taken into account when analysing Internet marketing, elements of either a technical, sociological or an economical nature.
The Research Stage
Due to the many aspects that comprise the theory and practice of Internet marketing, the research stage requires the student to explore several different domains, from Search Engine Optimisation to user-oriented marketing strategies. Therefore, when learning how to write an Internet marketing essay, you need to make sure that you grasp at least the basics of each of these different aspects. Search Engine Optimisation, social media, content marketing, display advertising, pay per click or web analytics are only several subjects that need to be understood by the student who learns how to write an Internet marketing essay, if he desires a good mark for his efforts.
The online medium itself is full of sources you can write your paper upon. There are many blogs that have as their subject ways to advertise and make profit on the internet, explaining how every section of Internet marketing works; such blogs are especially useful for students who are new to the subject. Nevertheless, keep in mind that personal blogs cannot be used as references in academic papers and neither can encyclopaedia articles or other sources of general information. Therefore, you need to consult some specialised sources by visiting a library or by searching for books on sites such as Google Books, Google Scholar or SpringerLink.
Moreover, when learning how to write an Internet marketing essay, the student has to be careful to focus on the right aspect of web marketing, so that his study will be relevant in the academic context he belongs to. For instance, a student who studies the economic relevance of e-marketing will barely be interested in exploring the technical details behind web analytics or Search Engine Optimisation. Therefore, it is very important to pay attention to the selected materials, and how their information will be incorporated into the essay.
After selecting the relevant bibliographical sources, a plan ought to be sketched, in order write the paper in an organised and efficient manner. The student, when learning how to write an Internet marketing essay, will use this plan as a roadmap, expanding on its main points as the essay is being written. Furthermore, the plan will also serve as an abstract.
The Writing Stage
1. The introduction will present the premises of your study. By highlighting the relevance of your viewpoint in several well-written sentences, you will retain the attention of your reader throughout the essay. Therefore, the introduction is more about how you present your information rather than what you present. Mention your main reference sources, but avoid going into details. The relevant facts that back up your thesis will be listed in the main body of the paper.
2. The main body of the paper will explain all the bibliographical information related to the thesis. Technical details, economic surveys, case studies and examples will be included here, along with the student's comments from an academic perspective. Knowing how to write an Internet marketing essay implies the use of an objective point of view for the author.
Employ a formatting style such as Harvard or the APA, but do so only if no formatting style has been explicitly requested by your instructor. Remember, you will not get a top mark if you do not respect the indications of the examiner. Make sure you cite every source as specified by the chosen formatting style, in order to avoid being suspected of plagiarism.
Your style should be simple, concise and clear, presenting every issue using a logical and coherent flow of ideas. Refrain from using exceedingly long sentences, figures of speech and avoid slang expression whenever possible. Knowing how to write an Internet marketing essay requires a certain degree of convincing power, too. Thus, be mindful of the arguments you bring, citing as many relevant examples and pieces of proof as you can find.
The conclusion should reveal the importance of your study into the field of Internet marketing. A student who knows hot to write an Internet marketing essay will leave no questions unanswered and no facts unexplained within his or her paper. Furthermore, in order to build up credibility and increase the chances of receiving a high mark, try to emphasise on how your essay might be used to improve the on-line business environment. More than anything, a good conclusion should leave the reader with a sense of having learned something valuable from the text. Do not forget to attach the works cited page at the end of your paper, in accordance with the formatting style you have used.
Revising the Essay
When learning how to write an Internet marketing essay, you need to acknowledge the importance of revising your text. Use a spell-check to detect and correct spelling errors. You may think that your paper is complete, but this is an author's bias; by re-reading the text, you might find that something was missed out, or that certain points need further explanation.
If you think that your use of language is not good enough, ask a friend to read the paper and offer advice regarding its improvement. Finally, by reading it aloud, you will see how the reader perceives the essay; such feedback can be very useful when learning how to write an Internet marketing essay. Nevertheless, consider employing a professional writer for editing your paper, via the Academic Sources editing and proofreading section.
There may be students who lack the time to conduct a proper research or to devise a paper by themselves. The Academic Sciences essay and dissertation writing services can be most useful in such cases; we guarantee that our papers will be free of plagiarism, never resold, and written according to the client's specifications regarding citation style, length and deadline.
Are you struggling with the perfect Internet Marketing essay? Academic Sciences is able to provide custom essays and model answers which can help you manage your Internet Marketing essay writing and get the grade you want. We have a variety of solutions available to you to suit your academic level, time frame and budget. Have a look through our academic guides and if you are still struggling, consider giving us a call or placing an order for an essay on-line.
If you wish to speak to one of our friendly consultants, please call: 0203 011 2240
Text/whatsapp 07799 422 993
And it is even easier to ping us an on-line message!