How to Write an International Business Essay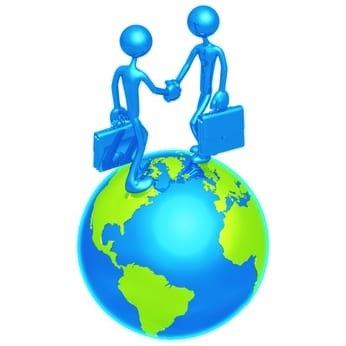 The first step you must take when learning how to write an international business essay is to make sure you have a good understanding of business theory and practice. International business explores the general perspective of closing deals in foreign countries, addressing issues such as the risks and advantages of doing business in other cultural and sociological backgrounds, the international business climate, consumer trends in emerging markets, social behaviour in international negotiation or intercultural exchange.
The Research Stage
Collecting the information is the first stage for every student who knows how to write an international business essay. Regardless of the topic you want to discuss, you must gather information only from reputable academic sources. Due to the advent of Internet research, accessing academic works has become easier than ever. Renowned books and journals can be found online on websites such as Google Scholar or SpringerLink, websites that provide plenty of valuable and reliable sources of information. The main purpose of this stage is to use credible bibliographic materials written by acknowledged professionals or researchers. However, you should not limit your research at browsing the Internet, because online sources are seldom sufficient for academic writing. In most cases, you will need to pay a visit to the local library. Interviews and surveys on international business topics can also be great methods to obtain material for your essay especially if you are going to make statistical statements on what people think about the benefits of closing international deals or if intercultural agreements are reachable etc. Read carefully all the gathered materials and make notes, organising an outline to keep easily track of each point you need to cover. When learning how to write an international business essay, remember to record details (i.e. author, title, date of publication, publisher) about the sources you have used so that you will easily reference them at the end of your paper.
The Writing Stage
If you know how to write an international business essay, you understand the importance of outlining your paper. The outline will help you to better organise your premises and arguments so that they follow a logical flow of ideas when you will begin the writing stage. A key point to your international business essay is the language. Use a concise, clear language, and get to know the specific business terminology; furthermore, avoid by any means the use of jargon. If you are going to use acronyms, keep in mind that the entire phrase must be always spelt the first time the acronym is used. For example: Court of International Trade (CIT) or Assistance for Customs and Trade Facilitation (ACTF). Moreover, the overuse of acronyms is sometimes inappropriate.
The

introduction

needs to describe briefly the entire scenario of the essay. Begin your essay with a catchy opening sentence and specify how you are planning to address the thesis, what side you intent to take, what points you wish to make in your paper and the evidence you will bring to support your approach. Remember to define clearly the issues and how they influence the international business context and to explain the complications and limitations found within the topic, if necessary. The introduction of your essay must be designed to entice the audience's attention and make them concentrate on the rest of the exposure but it also has to make them familiar with the international business environment. Furthermore, you can also present some ground theory on the discussed topic. The information needs to be correct and verifiable – a pertinent fact to illustrate your future approach.
In the

body

of your essay, you should classify the major issues and perform a detailed analysis based on the sources you have gathered. The student who knows how to write an international business essay will pay much attention to paragraphing. Paragraphs should be varied in length (five to fifteen sentences long) and sequenced so that the information presented flows smoothly from one idea to the other. The transition between paragraphs can be made by using transitional words or by repeating the key words. Never end the paragraph with a summary, quote paraphrase; instead, you can explain to the reader the importance of every piece of information by relating it to your thesis.
In order to provide a rational debate, you need to examine points of view from different authors and bring pros and cons for all your arguments. Moreover, you may highlight the originality of your essay by giving your own opinion on the discussed matter especially when it comes to topics like risks of international joint venture, the internalisation of companies, cultural impact on business and other related issues. On the other hand, if you are discussing less flexible topics such as international business management, economics, or corporate governance, your personal thoughts should be limited. Remember to mark and reference every text taken from another source. An unwritten rule is to use about ten references for each 1000 words, but this also depends on the nature and dimension of your essay.
The

conclusion

should focus on each main idea you have discussed in the main body, thus reaffirming the thesis statement .The conclusion should be the result of logical reasoning and it doesn't have to follow a set formula: you can either make a review of the key points or describe your personal feelings about the topic. Give a brief acknowledgement to each of these ideas in order to provide a solid foundation of credibility. Be careful not to lose yourself in details; the conclusion must offer a sense of closure to the audience. Someone who knows how to write an international business essay will avoid leaving the reader with hanging questions, or to ask questions that raise new issues. Keep in mind not to end the essay with "The end" or any other decorative elements.
Bibliography/List of References

. This documents all the sources you have based your essay on. If you have used footnotes in the paper's body, you can just include a bibliography.

The Appendix.

A student who knows how to write an international business essay will use supportive materials (charts, graphs, screenshots, and images). However, when they are too large to be included in the main body, you may include them in the appendix. In most cases, your instructor will give you instructions regarding topic, length, or the formatting style (MLA, Harvard or APA) or any other general guidelines.
Revising the Paper
In order to have a complete understanding on how to write an international business essay you must pay attention to the revision stage. There are two aspects of revising a paper: content and context. By revising the text, you will make sure that all facts are appropriately stated and referenced while the context revising covers the syntactical and grammatical errors. Proofreading means to improve your essay by identifying and correcting all these issues. If you are looking for a quick and efficient revision, you may use our proofreading and editing services. Furthermore, if you are unsure about your abilities regarding how to write an international business essay or in case you don't have enough time, then you might consider ordering a custom paper from our essay writing section.
Are you struggling with the perfect International Business essay? Academic Sciences is able to provide custom essays and model answers which can help you manage your International Business essay writing and get the grade you want. We have a variety of solutions available to you to suit your academic level, time frame and budget. Have a look through our academic guides and if you are still struggling, consider giving us a call or placing an order for an essay on-line.
If you wish to speak to one of our friendly consultants, please call: 0203 011 2240
Text/whatsapp 07799 422 993
And it is even easier to ping us an on-line message!