How to Write a Strategic Marketing Essay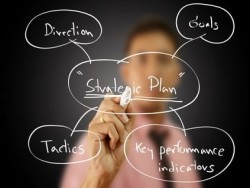 Any student who claims to know how to write a strategic marketing essay should consider several rules before proceeding to devise a well-written paper. Strategic marketing refers to the process that allows a company to use its limited resources to increase sales and achieve market advantage, and includes all activities that deal with the analysis of the present situation of an organisation, which managers use in order to identify and evaluate market-oriented strategies and achieve long-term marketing goals.
A first step in learning how to write a strategic marketing essay is deciding on which aspects of marketing the analyst should focus, according to the organisation profile and the products' characteristics. You must pay attention not to get lost in materials that fail to communicate the right idea. What many students don't realise about writing an essay is that it is more than an introduction, a body and a conclusion; it's about communicating explicitly your ideas, so that the reader is convinced of your knowledge regarding the chosen subject.
The Research Stage
Knowing how to write a strategic marketing essay requires the student to acquire a solid documentation. You must identify and consult reputable sources on the topic you want to discuss. In the field of marketing, these sources can be business and trade journals, books written by business and marketing experts, sample marketing papers, organisation reports, marketing PhDs or dissertations, or any other document about marketing material coming from a reliable source, be it on the Internet or at the local library. Remember that websites such as Wikipedia or other encyclopaedias are not an acceptable source in any academic writing. Their usage is acceptable only for getting the general aspects of a problem, as well as references or bibliographical pointers, but they cannot be used as sources by themselves.
Someone who knows how to write a strategic marketing essay must have basic knowledge about other disciplines such as economics, business and even politics, so it is a good idea not to limit your research to only one area. If possible, you can contact organisations directly by phone, e-mail or in person to obtain material for your essay. Furthermore, almost every educational institution subscribes to one or more academic databases where you can find specialised academic essays.
The Writing Stage
Introduction. The introduction needs to be written in a concise and objective style in order to attract the audience's attention and give them an idea of the general thesis. The introductory paragraph should briefly present your topic and outline your arguments. You can also discuss other authors' points of view regarding the chosen topic and include any relevant data that might introduce the readership to your subject. Remember that the purpose of your introduction paragraph is to catch the reader's attention. The following points can offer you guidance on how to write a strategic marketing essay introduction:
-A brief explanation of the general topic;
-The purpose of your essay;
-What issues will be analysed in the essay;
-An outline of the research process.
Main Body. The body of your paper is the longest part of your paper, in which you expand the main ideas and develop adequate arguments to sustain them. After writing the introduction, a student who knows how to write a strategic marketing essay will pay much attention to paragraphing. Each paragraph in the essay body must be focused on a single main idea written in an intelligible way. Expand these ideas in the most concise, clear and explicit way you can and support your assertions with proper evidence. Have in mind that paragraphs need to have a coherent and natural flow of ideas. Your instructor can require a standardised formatting style as APA , Chicago, MLA etc. If you have quoted a text from a journal, book or any other source, you need to cite it properly. Your essay main body should contain four main points:
Interpretation of primary literature sources you have used: here you should add quotes and relevant information about other examples of strategic marketing found in the literature, as well as formulas.

Methodological problems or any issues that occur when applying the theoretical concepts.

The current state of research in the marketing field.

Your viewpoint on the matter you have discussed in the essay. This step is however optional depending on how rigid is the marketing area you are discussing in your essay.
Once you have exposed all your arguments, and if you think you have set up a convincing case, it is time to draw the conclusions.
The Conclusion. The conclusion should explain the results found from your research. Moreover, you might give a summary of your interpretations and observations or you may briefly discuss the strengths and limitation of your research. Since you know how to write a strategic marketing essay, you might also make suggestions for possible future studies. If your essay was complex, you might recap the main ideas in a summarised manner so the audience understands what you attempted to communicate through your paper. On the other hand, if the essay was short avoid the recap phase.
References / Bibliography. An important part of learning how to write a strategic marketing essay is referencing. In the bibliography page you have to list all the details about the sources you have cited according to the referencing style you have used. The reference page is added at the end of the essay.
The Revision Stage
If you know how to write a strategic marketing essay, you should not overlook the revision stage; skipping this phase can be often costly, affecting the final mark. If you do not re-read your document, it is possible to forget mentioning important marketing issues or relevant ideas. The more your paper will be revised, the greater are the chances of receiving a high mark. Analyse carefully the grammar and punctuation of your text. A good way to have your essay revised is to hire a professional within the editing and proofreading section at Academic Sciences.
Moreover, if you realise you do not have enough resources or time to write the essay yourself, you can order an essay from proficient essay providers. Try the Academic Sciences essay writing section. This way you will be assured of 100% plagiarism free custom essays or even dissertations. Our writers will respect all the academic standards required by your instructor.
Are you struggling with the perfect Strategic Marketing essay? Academic Sciences is able to provide custom essays and model answers which can help you manage your Strategic Marketing essay writing and get the grade you want. We have a variety of solutions available to you to suit your academic level, time frame and budget. Have a look through our academic guides and if you are still struggling, consider giving us a call or placing an order for an essay on-line.
If you wish to speak to one of our friendly consultants, please call: 0203 011 2240
Text/whatsapp 07799 422 993
And it is even easier to ping us an on-line message!